About Hoa Vien
Established in 1995, Hoa Vien has become a familiar address for beer connoisseurs in both Saigon and Hanoi. In 2000, Hoa Vien Hanoi was honored to welcome the Prime Minister of the Czech Republic (Milos Zeman, In January 2013, Zeman was elected President of the Czech Republic). In September 2006 Hoa Vien Saigon was honored to welcome the President of the Czech Republic (Václav Klaus) and the President of Slovakia (Ivan Gasparovic).
Hoa Vien Craft Brewery is honored to be voted the Best Beer Restaurant by readers of Vietnam Economic Times for 10 consecutive years (The Guide Award 2003, 2004, ..2011,…)
In collaboration with Pivo Praha, Lukr Ingeneering and the Beer and Barley Research Institute of the Czech Republic... Hoa Vien has successfully built a beer brewing line right on the restaurant premises using traditional beer brewing technology of the Pilsen region. Hoa Vien Saigon Craft Brewery Restaurant brewed the first batch in early 2000 and became the first Craft brewery restaurant in Vietnam.
1. HOA VIEN HANOI
Address: 1A Tang Bat Ho, Hai Ba Trung Distric, Ha Noi City
In 2007, Hoa Vien Hanoi jubilantly opened a new location with a campus of more than 1,200 square meters, centrally located, about 600 meters from the City Opera House and Hilton Hotel, built and decorated with bold style and character of European architecture. The construction and decoration of the restaurant are given special attention and meticulous investment. The architects have harmoniously combined wood and copper materials in the decoration along with antique items, making guests feel like they are returning to ancient restaurants in Bohemia at the beginning of the last century.
Right in the middle of the main hall are two striking, shiny copper beer kettle. Barley is ground and poured into these tanks. The first stage of the brewing process begins here; Part of the building's basement is where beer is fermented and lagered. The restaurant's three main halls are named after major cities of former Czechoslovakia: Prague, Brno, and Bratislava, located on the 1st, 2nd, and 3rd floors of the building, respectively, with a capacity of 100 banquet tables per floor. On the 2nd and 3rd floors, there are also separate, luxurious small rooms named after the capitals of countries that have long-standing relations with Vietnam such as: Moscow, Kiew, Berlin, Sofia, Warsaw, București, Budapest, Sant-... Pertecburg is for customers who like privacy.
Right in the Restaurant, you will be able to witness firsthand the different stages of the elaborate beer brewing process in a completely new culinary setting. You can personally inspect each grain of barley from the famous Bohemia region, see the hops of the Saatz (Zatec) region, and taste young beers with charming flavors right in the beer aging cellar. In addition to the conditions on the quality of input materials such as barley, hops, and yeast set by the Czech Republic partner under the technology transfer agreement, beer brewing water must also be treated with special filtration technology. Along with those strict standards, it also includes following the correct process according to traditional Pilsen beer brewing technology by an experienced brewmaster from the Czech Republic, working on-site every day. All of the above factors aim to ensure the highest consistency quality of Hoa Vien beer. And also for the first time in Vietnam, you can personally tap your own beer at the table connected directly from the beer tank under celler. Hoa Vien Craft Brewery is the first Beer Brewing Restaurant model in Vietnam with the aim of providing diners with high quality beers, creating opportunities for cultural and culinary exchange with the aim of increasing understanding of traditional beer.
The Czech Republic's long-standing beer brewing tradition is considered one of the cultural heritages of the Czech people. Therefore, replicating this model in Vietnam is not beyond our goal.
We are ready to provide the necessary support and training for entrepreneurs who want to continue this model. Over the years, we have consulted and provided relevant information on design, construction, equipment, installation, operation, and technology transfer for many customers in Vietnam.
The restaurant's operating style and mechanism are under the management of trained and experienced professionals. Hoa Vien is committed to providing excellent service and stable quality at reasonable prices, ensuring maximum customer satisfaction; creating new career opportunities and a stable working environment for restaurant employees. The above criteria are the guideline for our success.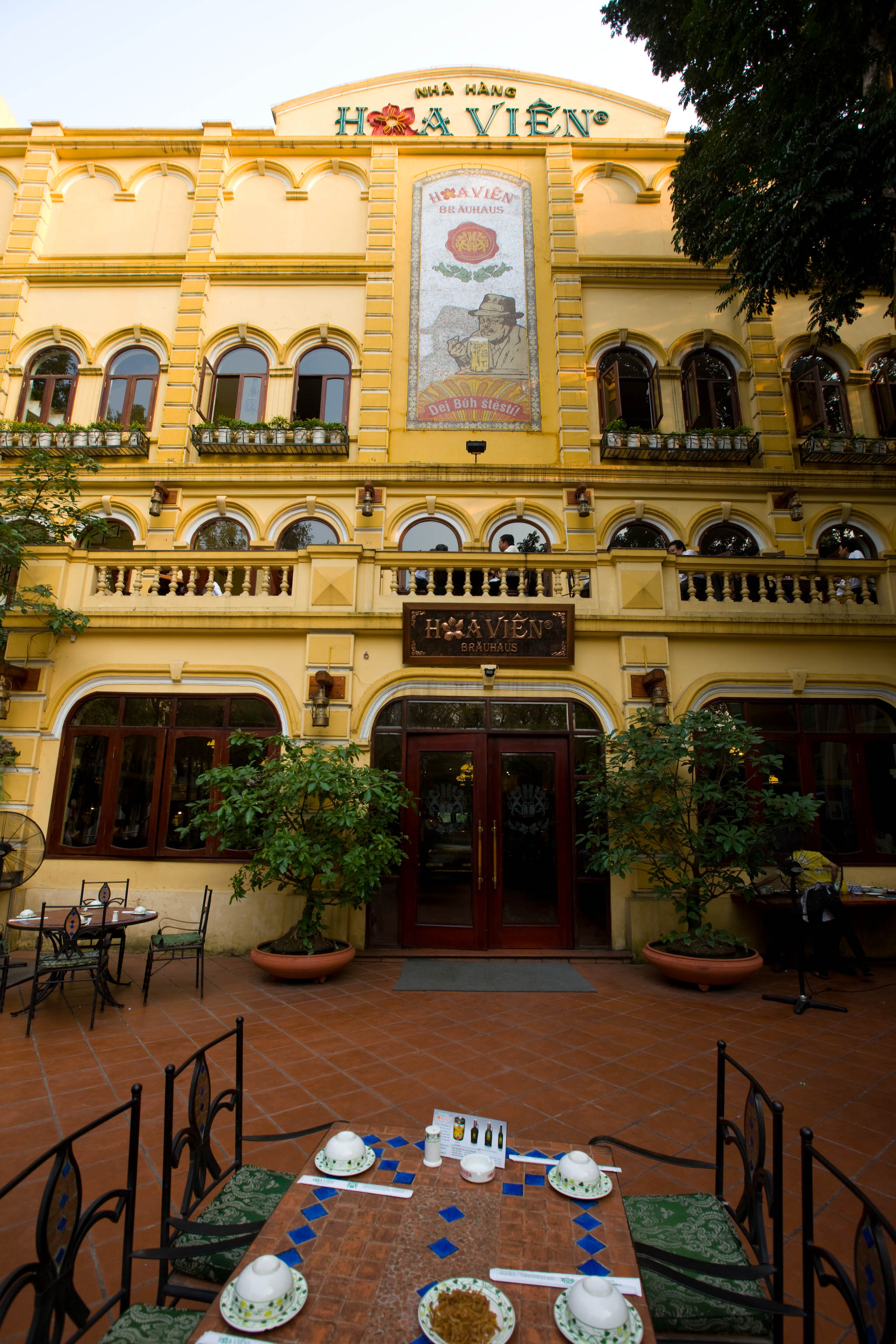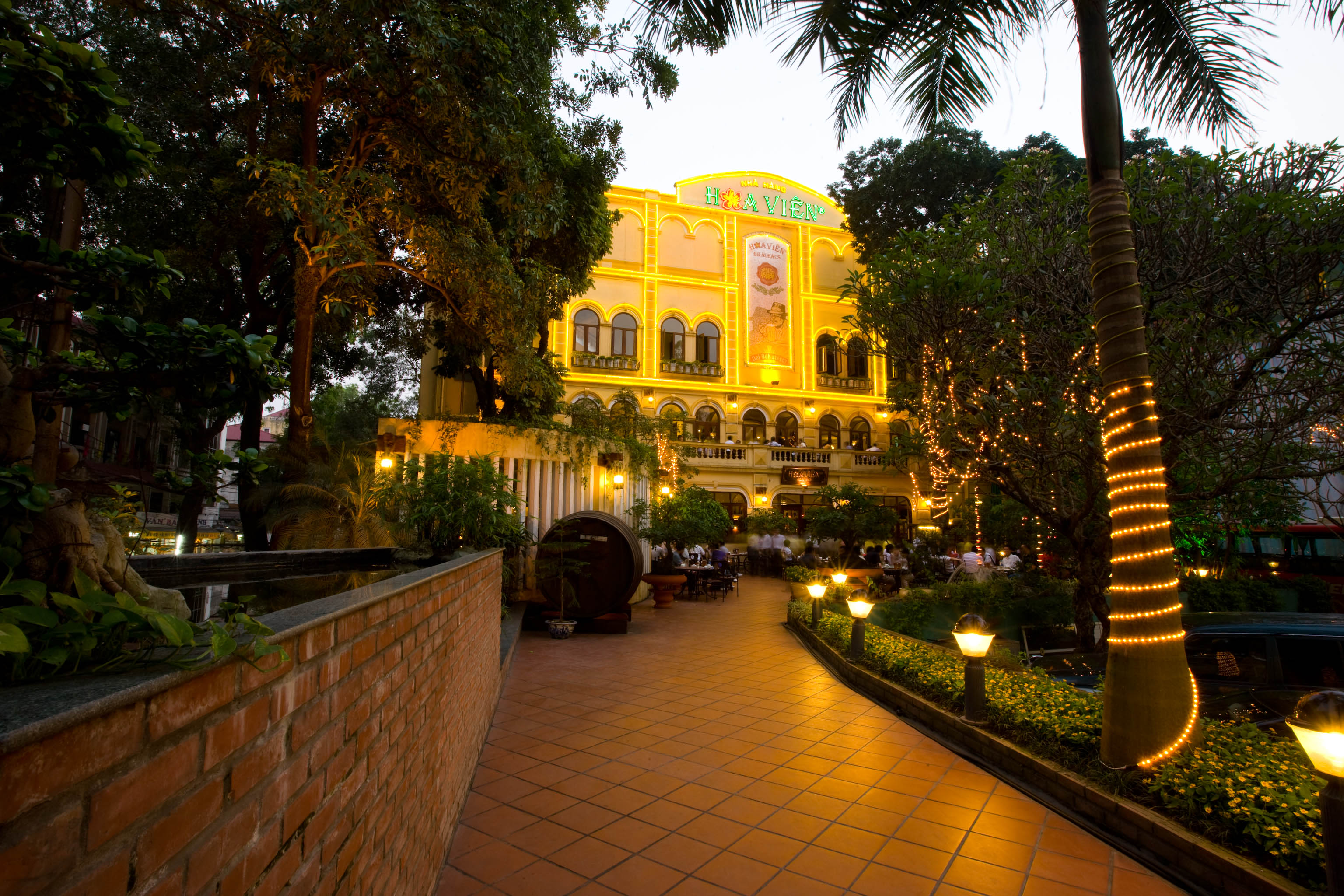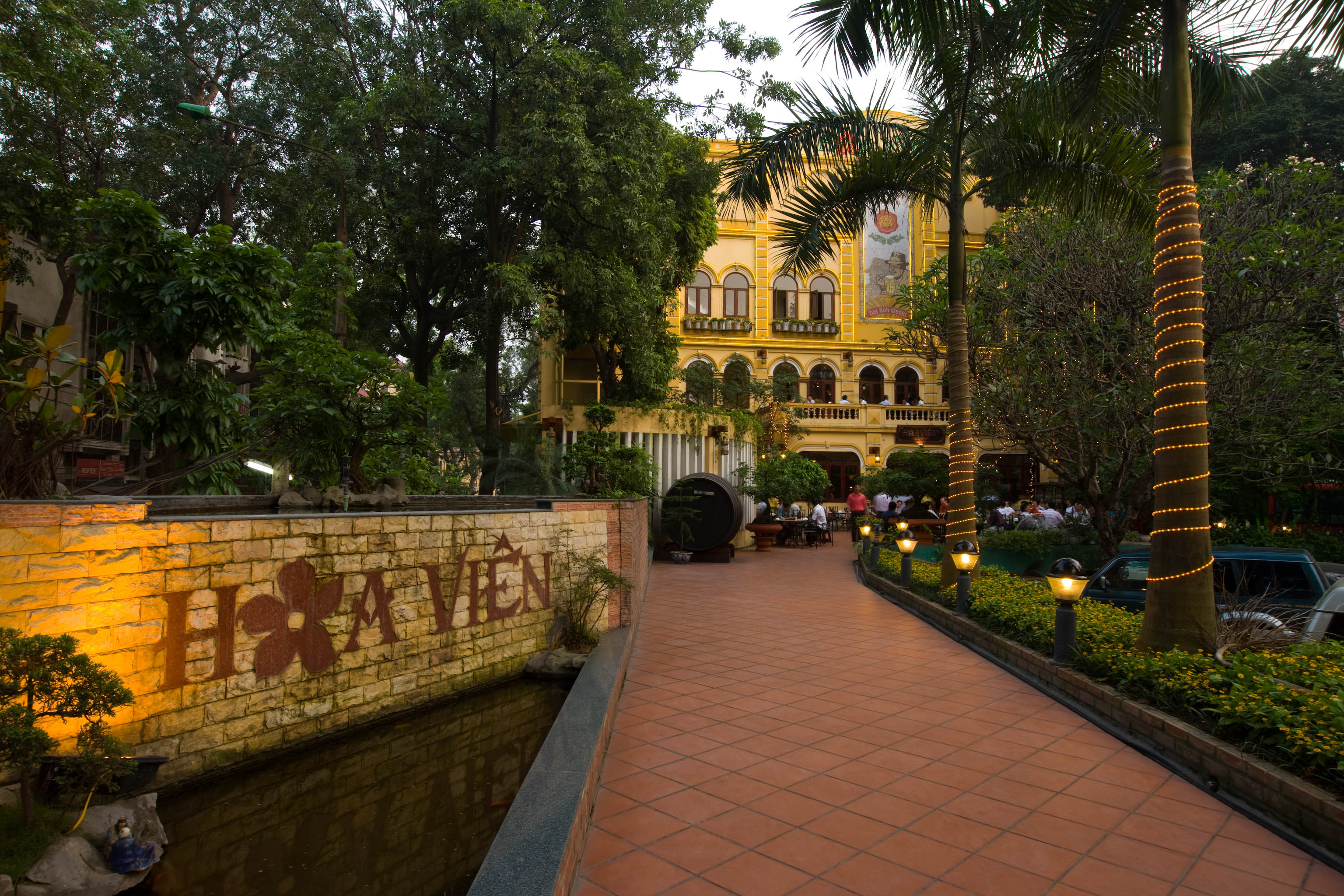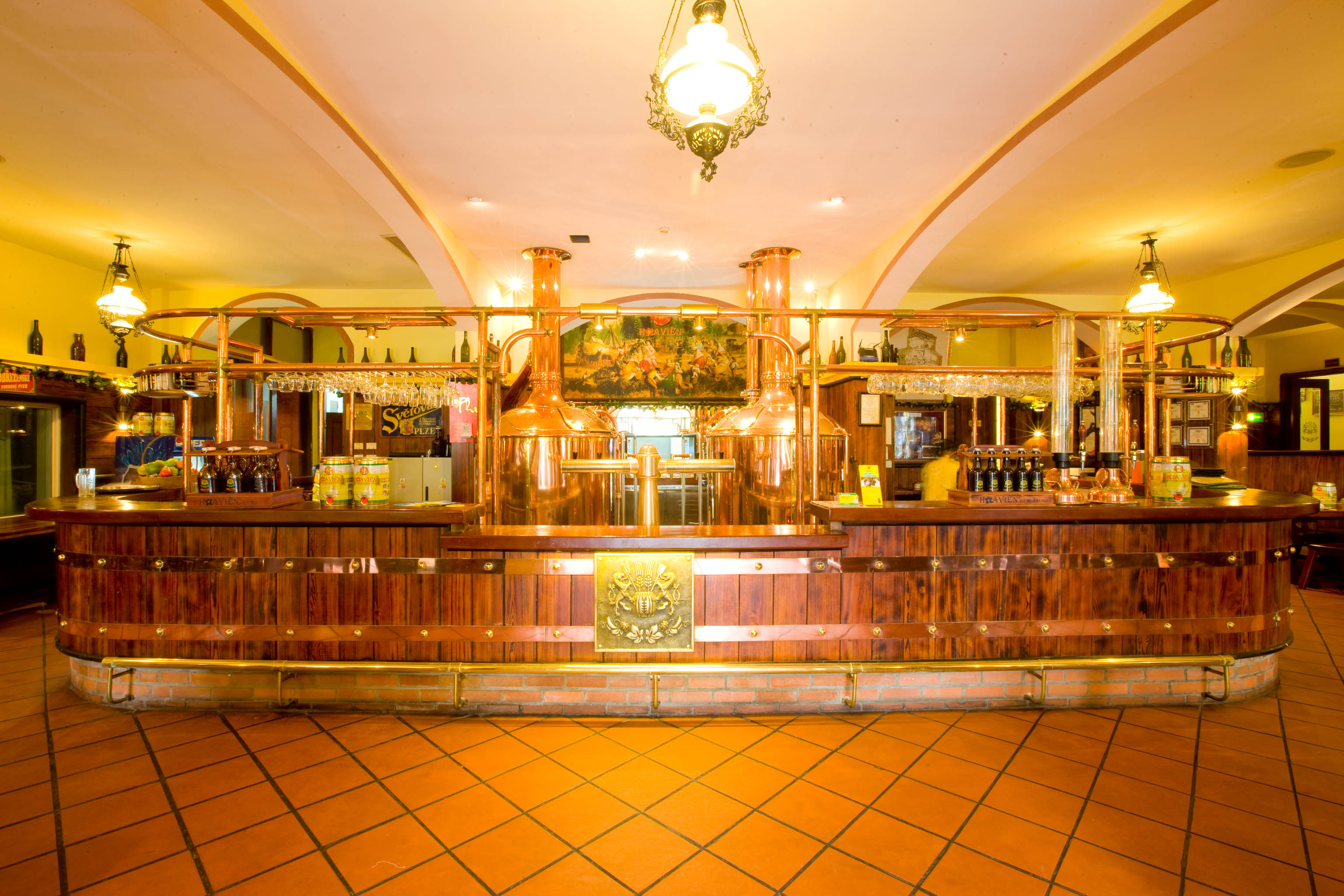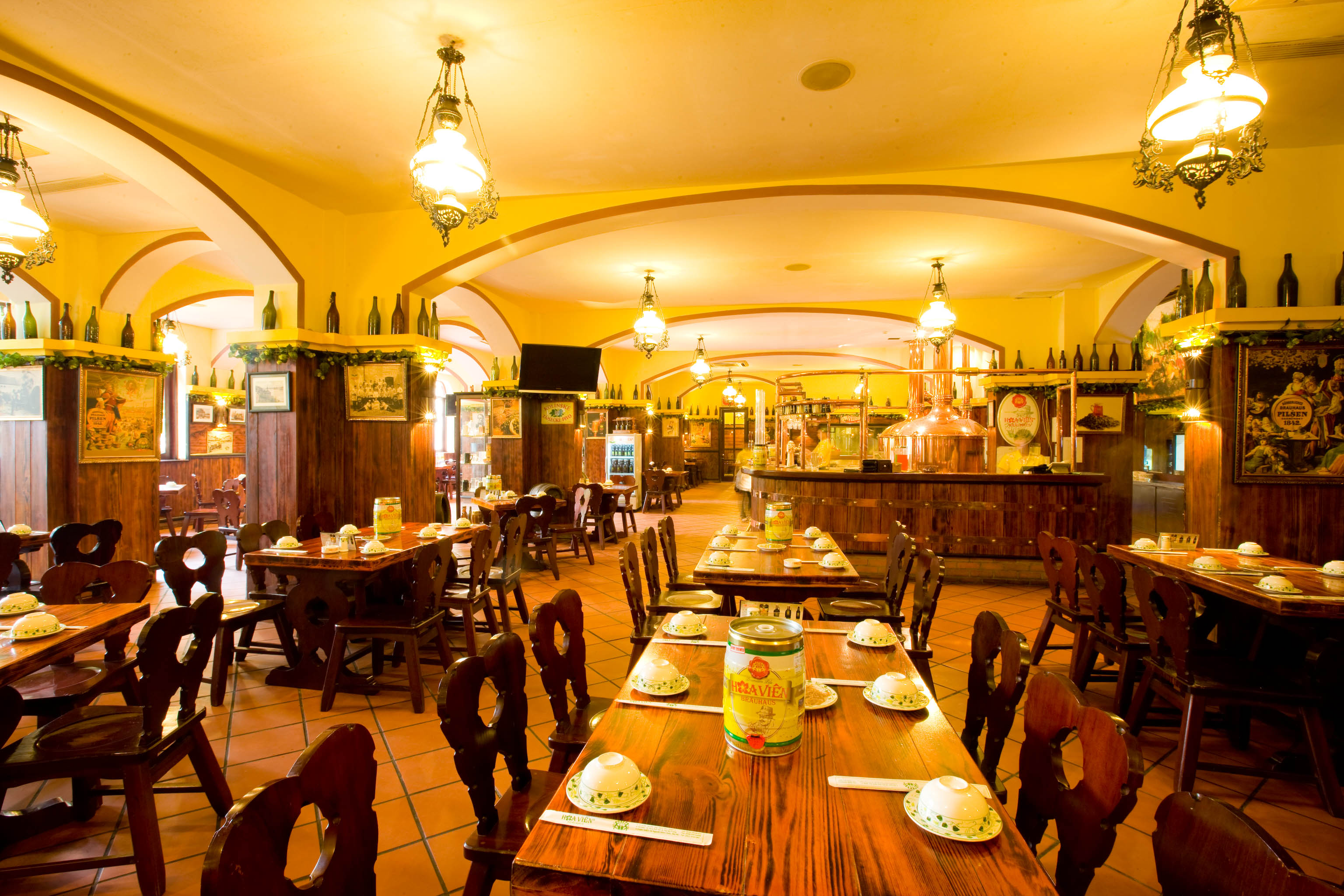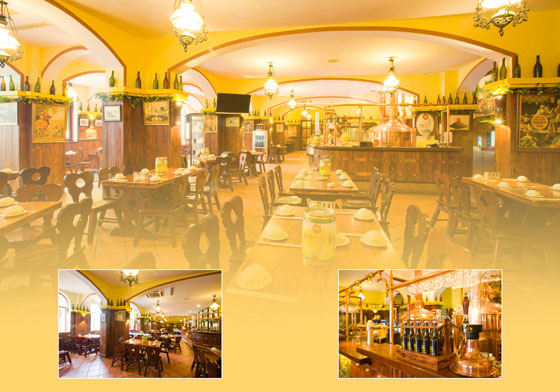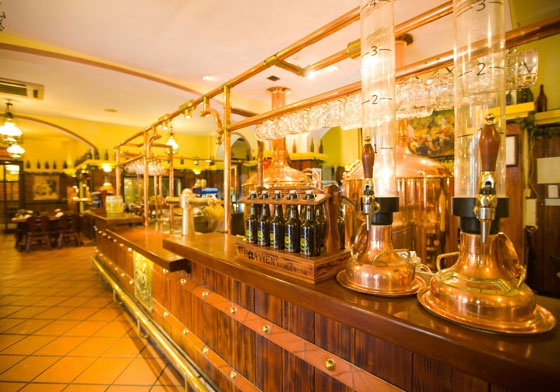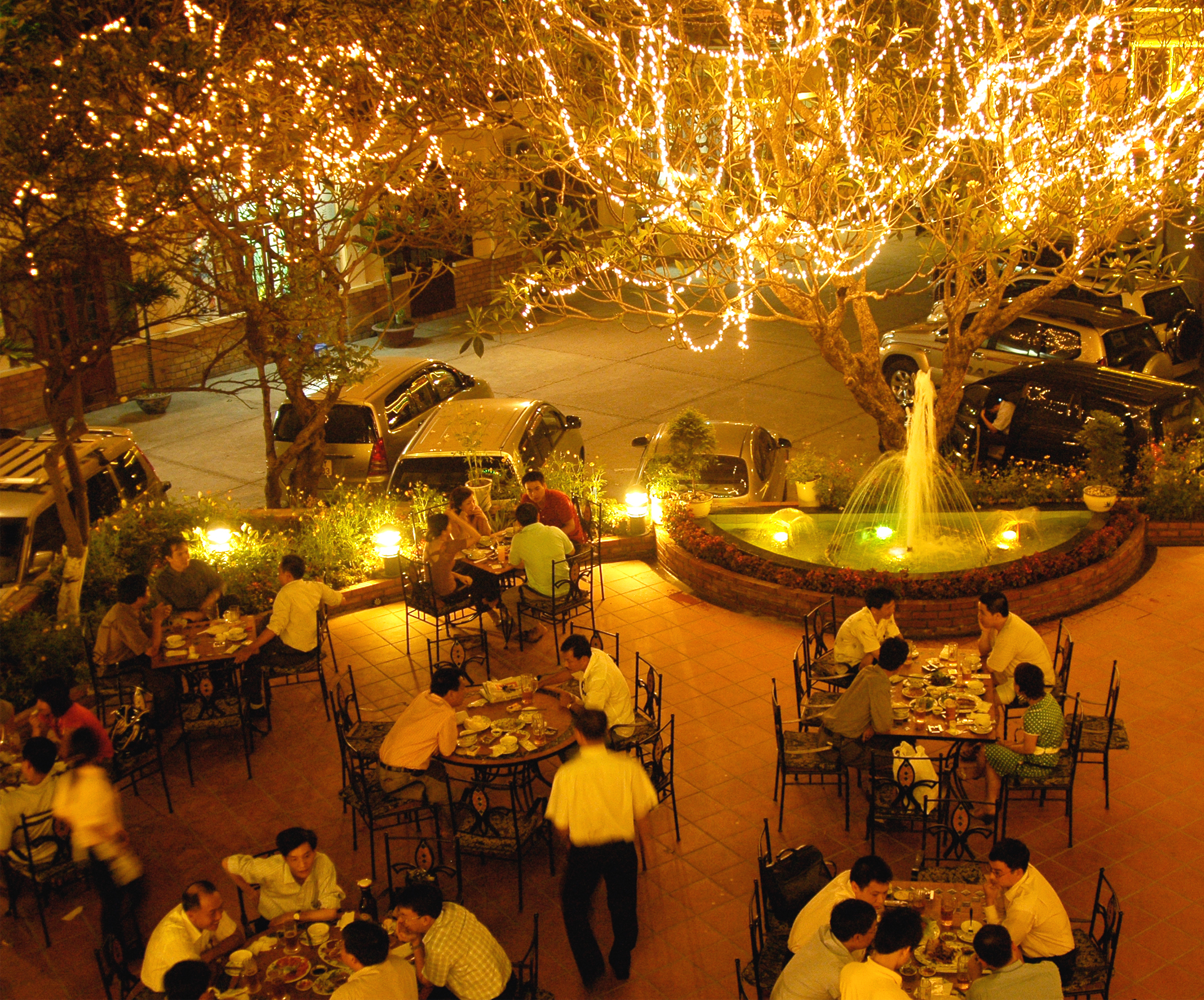 2. HOA VIEN SAIGON
Address: 18 Bis Nguyen Thi Minh Khai, Dakao Ward, Distric 1, TP.HCM
Tel: 028.3829 0585
Established in 1995, Hoa Vien has become a familiar address for discerning customers in Ho Chi Minh City and Hanoi. On Mac Dinh Chi street (now changed to gate 18 Bis Nguyen Thi Minh Khai, District 1, Ho Chi Minh City). Hoa Vien Craft Brewery is known to Saigon people for its unique beer flavor brewed from famous Bohemia barley and traditional Czech beer dishes in a space filled with European style and architecture. Therefore, the restaurant is also a favorite destination for both Western and Asian guests. For diners who have been to Eastern European countries before, Hoa Vien restaurant is an interesting place to rediscover unfamiliar European dishes and dishes from home. Hoa Vien draft beer is brewed on site with the highest standards, ensuring stable and excellent quality. Along with a space imbued with the culture of the Czech Republic, Hoa Vien restaurant has long been a familiar destination for Saigon beer connoisseurs. Still a golden beer brewed from the best barley grains in Bohemia. There are still dishes with strong Czech flavors that diners can only find here. With airy garden space, indoor areas and cozy, private VIP rooms. Diners who come here always feel that the environment is friendly and close. The dishes at Hoa Vien are very diverse, always changed and refreshed weekly and seasonally so that diners can choose the most delicious dishes.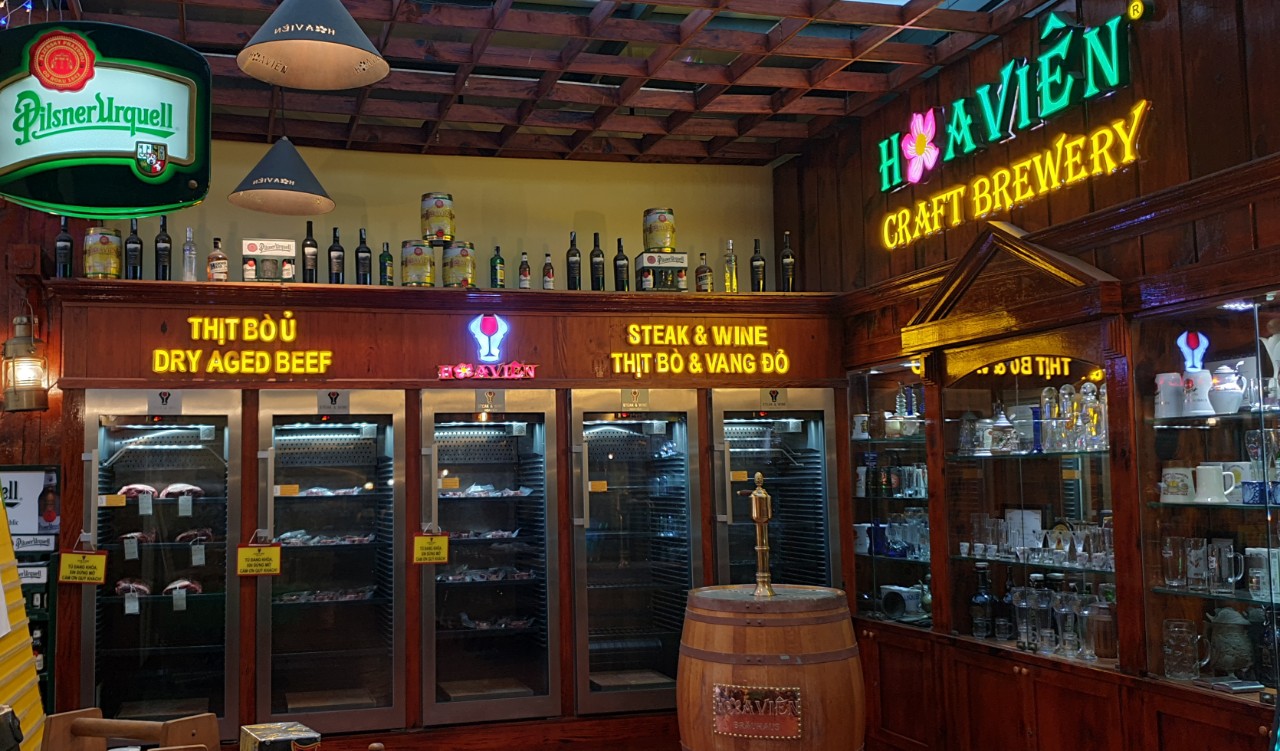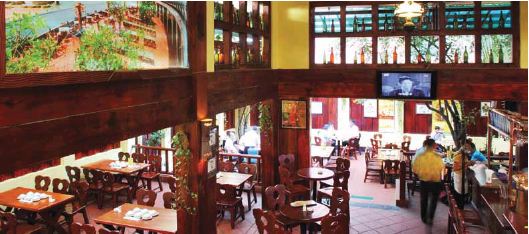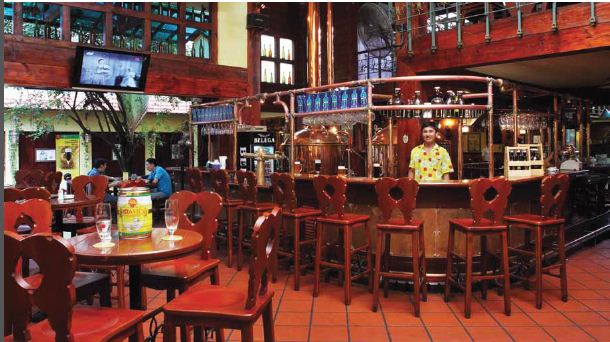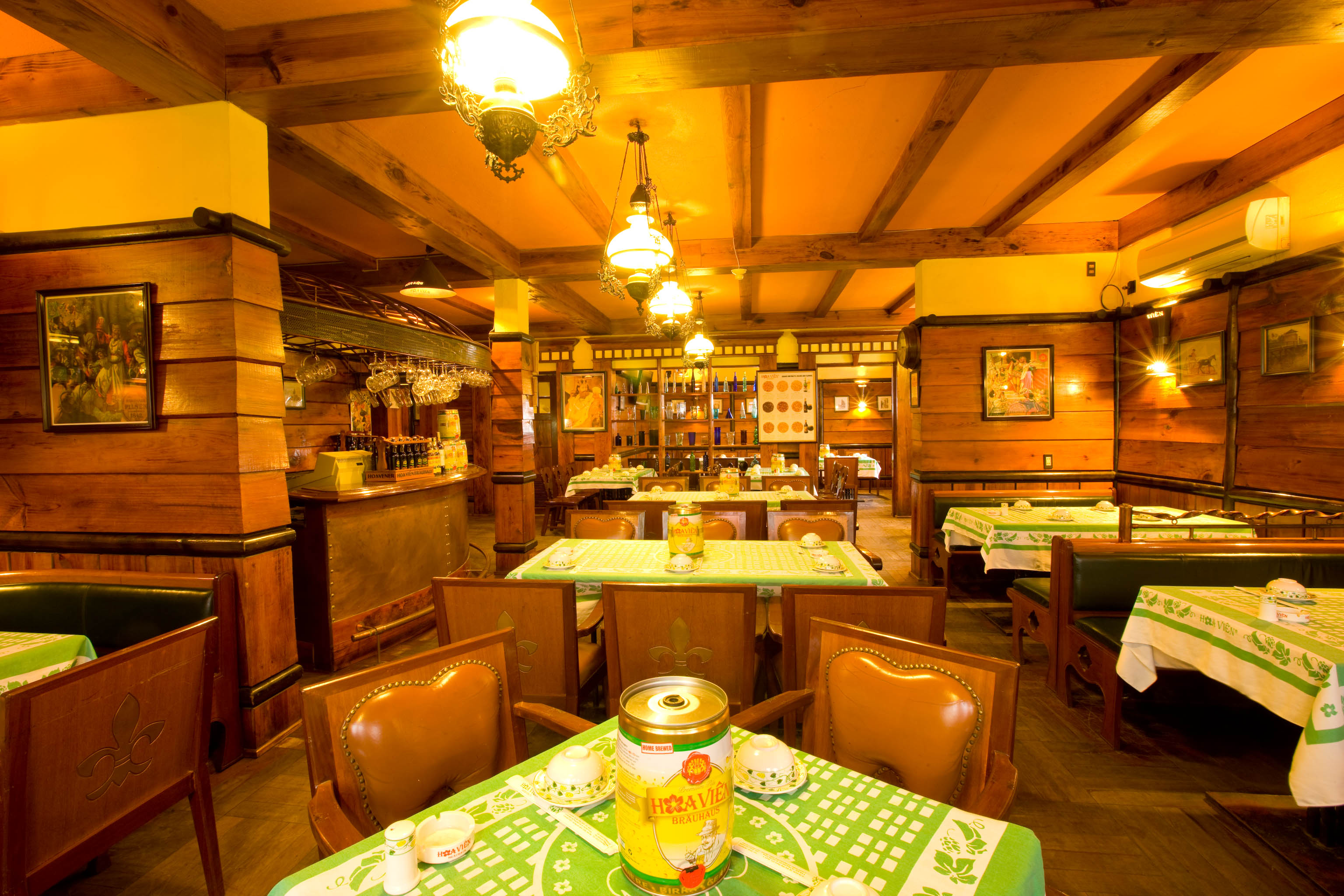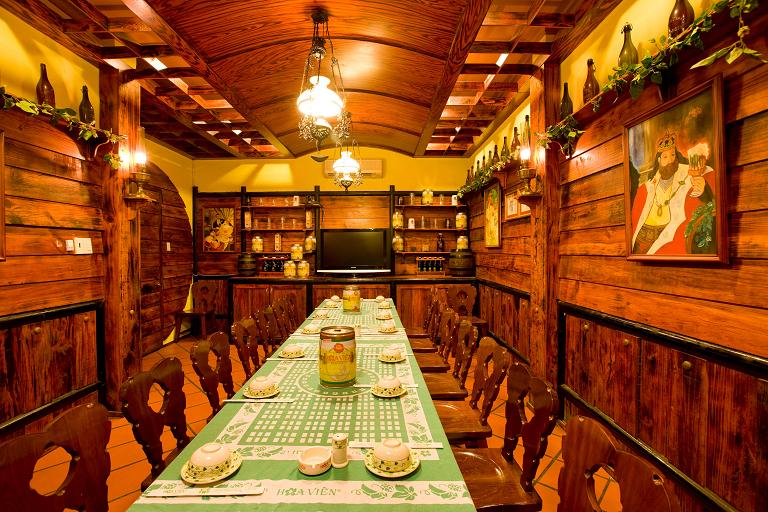 Tham quan nhà máy bia Mini giữa lòng Quận 1 - Hoa Viên Craft Brewery
3. HOA VIEN PILSNER ORIGINAL
Address: 16 Pho Quang, Ward 12, Tan Binh Distric, TP.HCM
In 2014, Hoa vien Pilsner Original Restaurant was officially opened at 16 Pho Quang, Tan Binh District, Ho Chi Minh City. This is the first Hoa Vien Pilsner Original brand in Vietnam. Hoa Vien Pilsner Original was designed by Czech architect - Jirí Hanzlík, he is the author of more than 30 Pilsner Original restaurants in Czech, Germany, Russia, Sweden, Ukraine, Slovakia...
Originating from the idea of building a restaurant model based on the strong image of the excellent Pilsner Urquell beer brand and the beer drinking style of Czech people from previous centuries to today's dynamic, modern life ; as well as the desire to honor and continue the historical tradition of famous quality beer brewing for hundreds of years in Czech land.
With the harmonious combination of ancient European architecture with impressive interior space, it demonstrates a unique culture of enjoying beer in a sophisticated, friendly and inspiring space, a typical new culinary style. fully meets modern culinary trends. The restaurant is not only a beer museum, but also an open space to meet and chat with people who have the same desire to find original quality. At Hoa Vien Pilsner Original, you can choose a premium beer with the Hoa Vien brand that has been affirmed for its quality and unique flavor for nearly 30 years or enjoy the excellent imported Pilsner Urquell beer from Pilsen of Czech Republic. In addition to the traditional dishes of Hoa Vien Restaurant, you can choose from many fresh seasonal seafood dishes.
The restaurant's open space is designed to suit many types of parties and customer groups, with a cool garden area, a banquet room accommodating up to 300 guests, and V.I.P rooms from 10 to 60 people to ensure the privacy.
Especially with 20 karaoke rooms with a capacity of 12 to 60 people designed and built according to the highest standards of sound processing, meeting strict requirements for sound insulation, sound absorption and equipment. The newest, most advanced generation karaoke on the market, guaranteed to bring you an impressive experience, enjoying relaxation with your family and friends.